Open Source Software and Information Society for South Africa
Great news today - especially for me - as three years of work culminates in new National Government Policy. As reported on
IOL
, Parliament has accepted the Policy on Free and Open Source Software Use for South African Government. An exciting day for the future of South Africa. Phew... some relief!
It has five basic statements, each of which are important and have impact on information society:
1) The South African Government will implement FOSS unless proprietary software is demonstrated to be significantly superior. Whenever the advantages of FOSS and proprietary software are comparable FOSS will be implemented when choosing a software solution for a new project. Whenever FOSS is not implemented, then reasons must be provided in order to justify the implementation of proprietary software.
2) The South African Government will migrate current proprietary software to FOSS whenever comparable software exists.
3) All new software developed for or by the South African Government will be based on open standards, adherent to FOSS principles, and licensed using a FOSS license where possible.
4) The South African Government will ensure all Government content and content developed using Government resources is made Open Content, unless analysis on specific content shows that proprietary licensing or confidentiality is substantially beneficial.
5) The South African Government will encourage the use of Open Content and Open Standards within South Africa.
Some of the things that we worked on leading up to today: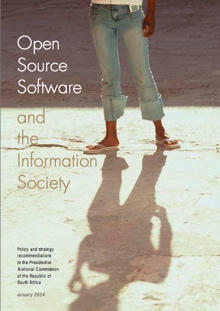 2003/4 - We won the bid to develop the Policy recommendations for the Presidential National Commission on Information Society and Development on Open Source Software and the Information Society
(2.8MB pdf packed with lots of research, insights into the economics and business models of Open Source, took a team some time)
. This forms the basis of the process in developing the new policy and provided a good basis for the next step.
2005 - Go Opensource Conference was held over two days in August at the Sandton Convention Centre. The campaign did a great job of contacting every government organisation in the country as well as representatives from academia, civil society and business. It's the first time I've been to a conference that's developed a declaration. Most of the content approved in Parliament over the past days, originates from the conference deliberations. Download the conference report
here (pdf 464kB)
.
2006 - Working Groups on Free and Open Source Software were established as an outcome of the conference and for many months we tried to establish any committed projects. This step was largely unsuccesful. The project was abandoned in favour of supporting the next two steps (or different projects). See the
http://wiki.go-opensource.org/wg/
for more info about the working groups and conference papers.
2006 -
SANGONET (South African NGO Network)
co-ordinated the Civil Society Petition to Government on Free and Open Source Software and Open Content, which hopefully assisted the process.
Forty-eight South African NGOs endorsed the petition addressed to the Minister of Public Services and Administration
.
2006 - Fortunately I had the opportunity to assist the Government IT Officers Working Group with the evolution of the final Cabinet submissions. (Linked to here soon)
It's really just a start. The strategy is a three year probably 5-10 year process and only then will part of it be completed. Government has made polcies before without sticking to them. This policy is a reflection of hope, of good intention and I'm excited to work with and continue supporting those few with a real commitment to these principles of openness. Well done!
Labels: Open Source, South Africa